The Defiance College Women's Volleyball team has officially wrapped up the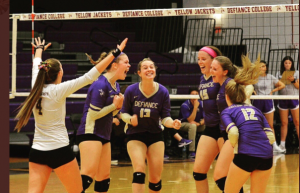 2018-2019 season. The Yellow Jackets fell 3-2 in the opening round of the Heartland Collegiate Athletic Conference (HCAC) Tournament to Rose-Hulman Institute of Technology (Terre Haute, IN) on November 6th, 2019.
The Yellow Jackets opened their season by playing in 3 different non-conference tournaments. First off, the team traveled to Capital University (Columbus, OH) to play in the Pam Briggs Classic. Here, the team went up against four different schools. The Yellow Jackets left this tournament with wins over Lawerence University (Appleton, WI), tournament host, Capital University, and St. John Fisher College (Rochester, NY).
Following the Pam Briggs Classic, the Yellow Jackets traveled to the Penn State Behrend Tournament in Erie, Pennsylvania. The Yellow Jackets faced off against a total of four other Division III teams bringing home wins over tournament host, Penn St. Behrend (Erie, PA), Bethany College (Bethany, West Virginia), and Fredonia State University (Fredonia, NY).
Wrapping up non-conference tournament play, the Yellow Jackets traveled to Ohio Wesleyan University (Delaware, OH), where they faced off against three more Division III schools. The Yellow Jackets brought home two wins over Wilmington College (Wilmington, OH) and tournament host, Ohio Wesleyan University. Following tournament play, the Jackets battled against five other non-conference schools, picking up three more wins.
Moving into the regular season, the Yellow Jackets finished the season with an overall record of 17-12. The team finished with a conference record of 5-4, taking 5th place in the HCAC Women's Volleyball Standings. Victories include 3-0 win over Manchester University (Manchester, IN), 3-2 win over Franklin College (Franklin, IN), 3-0 over Anderson (Anderson, IN), 3-2 win over HCAC rival, Bluffton University (Bluffton, OH), and a 3-0 win over Mount Saint Joseph University (Cincinnati, OH) on Senior Day.
Alongside taking 5th place in the HCAC Women's Volleyball Standings, several members of the team placed in individual statistics. Sophomore Delaney Monin, finished 5th in Kills per Set averaging 3.28. Monin also finished the season with a total of 364 Kills, ranking 3rd in the conference. Junior Morgan Porter, finished 2nd in the conference with Digs per Set, averaging 6.20. Porter finished the season with 688 Digs. Brianna Wheeler and Abigail Cronin both ranked in Service Aces per Set. Wheeler took first with 0.52, and Cronin took 5th with 0.41. Wheeler also finished the season averaging 9.14 Assists per Set. Topping off individual statistics is Freshman Mackenzie Umbaugh. Umbaugh ranked first overall in the Conference in Solo Blocks.
The Yellow Jackets plan on working hard in the offseason to prepare themselves for next season, hoping to finish higher in the conference and go further in the HCAC Tournament.
Written by Hailey Krawczyk