Black squirrels are very rare, but at Defiance College there are many of them.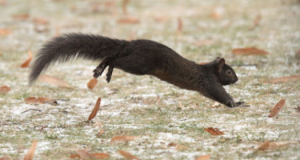 "For many people, seeing a squirrel or two is part of our daily routine," said the DNR, Department of Natural Resources.
You might think that black squirrels are their own species, but they are actually just another type of eastern fox squirrel. "Black squirrels have melanism or excessive pigmentation in its fur," said the DNR.
You might see these squirrels wandering around the Defiance College campus and think that there's something different about these squirrels then what you've ever seen at home. "Eastern fox squirrels are much bulkier than the gray squirrel, typically weighing one and a half times as much," said the DNR.
You may think that those black squirrels are just a typical sight in Ohio, but they're rarer than you think. "I have never seen a black squirrel until I came to Defiance and I'm from Cleveland, Ohio," said Davonte Lyle, an undecided freshman from Defiance College.
There are many people that believe there is only a certain color that squirrels can be. "I thought the only color that squirrels came in was brown, but when I came to Defiance College campus the black squirrels were everywhere," Lyle said.
Some people may see a difference in how a black squirrel may act. "Yeah there's definitely a big difference between black and brown squirrels," Lyle said. "Black squirrels are bold. I'll be walking down the sidewalk and they'll just run right in front of me and they'll stop. Brown squirrels normally run away. Black squirrels are also a little bit bigger than brown squirrels."
The rarity of black squirrels is unbelievable. According to smithsonianmag.com, every "one in 10,000" squirrels are considered to be black squirrels.
Written by: Seth Pearson