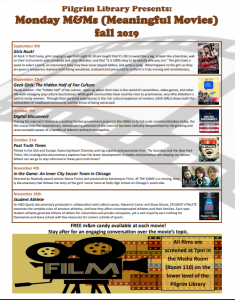 Despite no turnout at all, Meaningful Movie Mondays continue into the Fall 2019 Semester at Defiance College.
M&M Mondays show documentaries and other films that are purposeful and thought-provoking, with plans to follow the screening with a discussion on the topic within the film. The lack of turnout has made both that and the passing out of free M&M candy ineffectual.
Created by Lisa Crumit-Hancock, Assistant Dean of Student Success, M&M Mondays began in the Fall Semester of 2018, making this the second consecutive year of its existence. Despite its establishment, turnout at the first presentation of the fall semester was zero.
"This (the lack of attendance) shows that we haven't been getting the word out as well as we could be." Lisa Crumit-Hancock commented. "Emails don't seem to be cutting it, so we are very open to suggestions from students when it comes to marketing the event and getting the word out."
"We kept the event going because it wasn't costing anything really," Brandon Ripke, the Academic Support Coordinator at Pilgrim Library, explained while he was setting up the first film of the semester. "Kanopy is something that Defiance College uses, so we figured that this could be a way to further implement it."
Kanopy, as Ripke mentioned above, is a service for documentaries and films. The site's byline claims it has a focus on "Classic Cinema, Indie Films, and Top Documentaries." The Kanopy service is free for students with the use of their Defiance College ID. Every film that has been used for Meaningful Movie Mondays and that is planned for the future is hosted on Kanopy. To check out the movies available go to https://www.kanopy.com/ for free access.  
The first showing of the semester was at 7 pm on Monday, September 9th. The movie was a documentary called "Girls Rock," which followed a group of girls, ages 8-18 during a week-long stay at the aptly named Rock and Roll Camp for Girls.
The next showing of the semester will be on Monday, September 23rd, in the Media Room in the basement of Pilgrim Library, at 7 pm. The documentary this time will be titled "Geek Girls: The Hidden Half of Fan Culture," and will "open up about the lives (of women) in the world of conventions, video games, and other rife-with-misogyny pop culture touchstones."
Written by Camrin Santchi