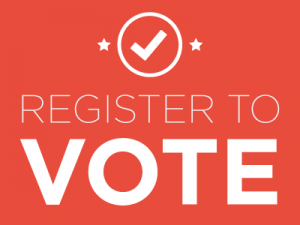 Last week the country celebrated National Voter Registration Day. It falls on the fourth Tuesday in September. The holiday is to promote awareness to eligible adults about voter registration so that no one misses the deadline to register.  Everyone can then vote in the upcoming elections without interruptions.  
First celebrated in 2012, National Voter Registration started its campaign to get the word out. As stated by the National Voter Registration Day website, "Every year millions of Americans find themselves unable to vote because they miss a registration deadline, don't update their registration, or aren't sure how to register. National Voter Registration Day wants to make sure everyone has the opportunity to vote." 
To be eligible to vote, according to USA.gov, adults must be U.S. citizens, meet their home state residency requirements and be at least 18 years old before election day. They are also required to be registered. Unless you are from North Dakota as they do not require registration, everyone else that is eligible will need to register to vote.   
Students must meet all requirements to vote in future elections.  
For students that are not registered and wish to become a valid voter,  there are the many ways to register.
For those unable to register in person, most states now allow online registration. It is available for 38 states and the District of Columbia. Check here to see if your state has online registration. Other options for students not registered is to "download the National Mail Voter Registration Form. You can fill it out on screen and print the completed form, or print the blank form and fill it out by hand." Then mail it to your local election office. 
For those students who would rather register in person, there are many options in location to visit and sign up to vote. Head to your local Board of Elections office where they can help you fill out the proper forms to get registered. Also, check your local department of motor vehicle office or armed forces recruitment center as most of the location can register you. Your state and county public assistance offices may also be able to register voters. 
To check if you are eligible to register, are already registered or to find out more information, go to https://www.usa.gov/register-to-vote or visit https://vote.gov/ to find out how to register. To find out more about National Registration Day, check out their website here: https://nationalvoterregistrationday.org/ 
Written by: April Johnson