On October 24th, Defiance College set up "A Night Without a Home" which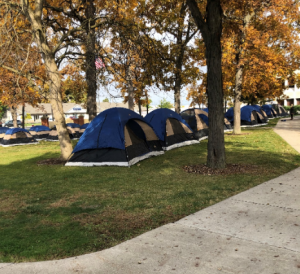 had the biggest turnout to date.
"We're appreciative of service leaders and you could tell the coaches had encouraged the athletic teams to attend," Alesia Yakos-Brown, Associate Professor of Social Work at Defiance College, said. "This was probably the most students we've ever had."
Yakos-Brown is the organizer of "A Night Without a Home". "The main goal is to raise awareness for homelessness," said Yakos-Brown. There were several events that were scheduled that evening, such as soup kitchen, tent city tours, opening remarks by President Richanne Mankey and Mayor Michael McCann, Q&A for formerly homeless, and trick or treat.
In a brochure provided by Yakos-Brown from PATH, Partnership Assistance to the Homeless elaborates more on what goals were. "A Night Without A Home provides an opportunity to discuss, think, and learn about homelessness through several interactive events and activities sponsored by The PATH Center of Northwestern Ohio Community."
PATH talks about what the event did for the homeless. "Tents will be displayed on the front lawn of Defiance College's campus to represent the homeless individuals and families who received emergency shelter services from The PATH Center."
"You could fill five football stadiums with the homeless population of the United States." Another fact that was provided was, "every year, 2.5 million children experience homelessness. That's almost the entire population of Chicago."
Written by: Seth Pearson