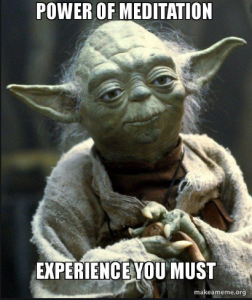 You may have seen the emails every week from Fred Coulter, about an event called "Mindfulness and Meditation". 
Dr. Coulter was recently appointed the Schauffler Chair of Christian Education, and started the Mindfulness and Meditation program in order to "Offer something to enhance faith on the DC Campus.". 
The actual meditation of the activity is an unguided process. The sole tool used to structure it is a 'mindfulness app' that Dr. Coulter uses to keep track of time. "We wanted to let people do their own type of meditation, but also needed some form of structure. The app is set for ten minutes, with a bell ringing to start. It rings in three-minute intervals, and then three times at the end of the ten minutes." 
In the emails sent out by Dr. Coulter, it reads that mindfulness is "the process of being aware of our thoughts, bodily sensations, and the surrounding environment." In part along with this, meditation is described as "the practice of letting go of ourselves and letting in the power greater than ourselves, who some call God".  
Despite being the Chair of Christian Education, Dr. Coulter emphasizes that the activity is open to all that are willing to join. "The meetings are small, with a turnout that sort of rotates, people come when they have time in a very drop-in manner week by week." 
The Mindfulness and Meditation activity is structured in a certain order, Gathering Thoughts and Centering Through Mindfulness, Introductions, Preparation for Meditation, and Meditation and Listening. According to the email, "I recommend that you do not worry about how well you're doing it nor get caught up in the technique." 
Mindfulness and Meditation meet weekly on Tuesdays in the Cultural Arts Center on Serrick Hall's second floor at 12:05 pm, and Dr. Coulter emails weekly on Mondays at about 9 am as reminders and to let anyone know if certain plans change. 
Written by: Camrin Santchi