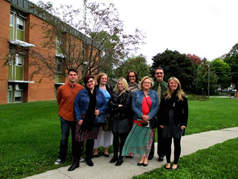 -Amanda Fooce
(Defiance, Oh) On the weekend of September 13th, three students and a group of faculty members travelled to Stratford, Canada to experience the Stratford Festival and watch a performance of King Lear, a Shakespeare tragedy about royal families, deception, and love. The show starred Colm Feore, who has had numerous roles in movies including Thor, as King Laufey.
The group was taken on a backstage tour of the Festival Theatre and learned about everything that goes into making productions, from costumes, to set changes and props. A show of this magnitude is expected to cost over one million dollars!
Students that went marveled at just the stage alone, claiming that it was nothing like they had even seen before. With more than five entrances and exits, actors and actresses were able to appear and reappear in numerous ways, making all of the set changes extremely fast. Any viewer that might have fallen asleep (but who would?) wouldn't have been asleep for long!
Thunder and lightning seemed to shake the entire building all with the use of sound equipment and lighting effects. It left many of the audience members thrilled and excited to find out what would happen next.
The performance was truly life changing as one student proclaimed, "The performance and the backstage tour really changed the way I see theater. It was on a whole new scale creativity and work. It was nothing like I had ever seen before. I now have a whole new respect for the performing arts."
But that's not all the group did, they also spent their down-time (what down-time they had anyway) shopping in downtown Stratford and eating at Indian restaurants, which many people had never tried before but all claimed was delicious!
Almost everyone explored the Shakespeare Garden, and everyone including the men exclaimed how beautiful it was. In between all of this excitement, the group stopped at every coffee shop, bookstore, souvenir store and candy shop they could find. Each moment was filled with conversations between students, professors and faculty about all kinds of subjects including education, politics, theater performances and other works of art, creating an even closer bond to everyone in attendance.
The students proclaimed that the trip was amazing. "Why don't more students sign up to go on these trips?" one student asked when they got back on campus. The world may never know.