-Daiton Lemmon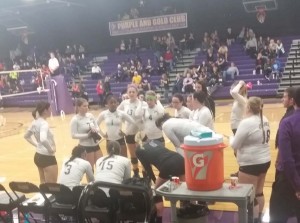 (Defiance, Ohio) The Defiance College volleyball team closed homecoming weekend on a high note extending their win streak to 16 matches while snapping Hanover's 3 match win streak winning in 4 games.
With the win the Yellow Jackets improved their record to 15-10 and remained undefeated in the HCAC with a 6-0 mark and dropped the Panthers of Hanover to 13-14 overall and 4-2 in the HCAC.
The Yellow Jackets took control of the match early led by Senior Bree Anderson with a big kill for the first point, her first of seventeen kills on the day.
The Jackets and Panthers were back in forth early in the first set tied at 8-8 the Jackets went on a 4-0 that led to a Hanover timeout the run would not be halted though until the Jackets had built up a 14-8 lead.
After the run the Yellow Jackets controlled the set. Anytime the panthers looked to make a run the Jackets made a big play to kill any momentum the panthers tried to build up. The Jackets went on to win the first set 25-17 with a kill by Bree Anderson to finish it.
The 2nd set started off much of the same with DC taking a quick lead 10-6 Hanover would however fight back to make it 10-15 for their first lead of the day. Kelsey Tietje would respond with a big kill to spark a 8-0 run by DC. The set would come even again to 24-24, but Hanover would proceed to score two consecutive points to take the 2nd set 26-24.
The Jackets would come out fired up in the 3rd set though looking to prove the dropped set to be a fluke by taking a quick 6-0 lead.
Defiance with the early lead in the 3rd set never looked back storming to a 25-18 win of the 3rd set led by Seniors Alicia Kalik and Bree Anderson.
The Jackets kept the trend of the day going in the 4th set going up 3-0 led by an ace from Jaidyn Patridge  and a kill from Meredith Shank. After marching to a 20-12 lead DC got the short end of a 5-1 run the score came to a 21-17 lead by DC  Defiance would shut the door though and go on to clinch the match 25-19.
Bree Anderson had a game high 17 kills, tying her career record, Alicia Kalik also had 44 assists and 12 digs Rebecca Kain had 22 digs to lead the team and Jaidyn Patridge added 12.
The Jackets look to keep the momentum going as they head to Anderson (Ind.) Wednesday October 22nd, start time is set for 7:00 pm.