-Jared Feffer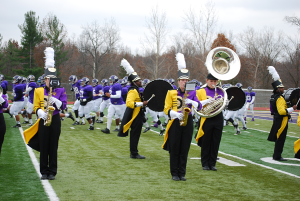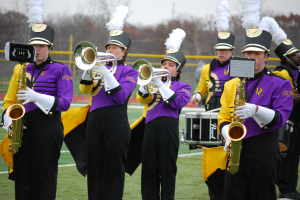 (Defiance, OH) The fall sports season has slowly come to an end, but the Defiance College Yellow Jacket Band will continue to march on. The band has recently wrapped up its second season and will continue to perform for many years to come.
"It is a small but mighty band," said Bridget Olenik, Director of Bands. The band has performed at all home football games and in the Defiance Halloween Parade. The Yellow Jacket Band is also the first marching band on campus and is open to anyone who has music experience.
Olenik says that the band enjoys playing popular music such as "Seven Nation Army," the "Back to the Future theme song," "Cupid Shuffle," and other favorites.
"The band is some of the finest musical talent on campus," says Olenik. The Yellow Jacket Band is the only marching band in the Heartland Collegiate Athletic Conference and has custom made uniforms.
Several students who are a part of the Yellow Jacket Band were asked what they liked about band, their favorite songs, and what their most favorite thing about being in band is. Logan Jones says his favorite thing about band is the people.
Jones also said that he likes the dedication to the music program from Mrs. Olenik and her husband, Doug Olenik. "I like that the band is still new and that there are traditions to be made," said Jones. His favorite songs include "Don't Stop Believing," "Seven Nation Army," and "Gangnam Style."
Erin Connor likes the friendships she was able to form with the other members. She said she likes being a part of the "beginning" and setting the foundation of the band for the future. "Bridget and Doug are very passionate about what they do," says Connor. Her favorite stand tunes include "Gangnam Style," and "Cupid Shuffle." She likes how the band supports the football team and vise-versa. "I hope to see the band grow over the next four years I am here," Connor said.
David Brown Jr. told us he enjoys being a part of the band and being with the people in the band. "Bridget is a great director," Brown said. He says the whole percussion section is very close to one another and they always make each other laugh. "It's our little family," Brown said.
Brown joined to be part of a new tradition and to mold it into something great. Brown also said he spends a lot of time outside of the regular band rehearsals practicing his instrument, but in the end it is worth it. Browns favorite songs include "Seven Nation Army", and the Cadences. He also likes hearing the blend of sound created when all the parts are together and the groove. "It sounds amazing," he said. Brown also said that he likes the uniforms, calling them "beautiful."
Through the fall sports season has ended, the members of the Yellow Jacket Band will continue to look forward to many more great marching seasons.