-Marissa Bramble
Have you ever wanted to be a part of something bigger and better than you? Something that could help you realize your potential and help you develop skills that will help you succeed in many different aspects of life? How about being a part of something that focuses on values and holding true to those values. Then going Greek for Alpha XI may be the thing for you!
Not many of the female students here at Defiance College are aware that there is a sorority on campus. Yes, there is Alpha Phi Omega which is co-ed and Phi Sigma Chi which is male only, but few know of the Alpha Xi's.
Alpha Xi Delta is an all-girl sorority on campus that focuses on making long lasting friendships, values, helping women to realize their potential, and serving others. Alpha Xi Delta is social sorority, therefore, we focus on leadership skills, thinking of others, and forming long lasting relationships with our sisters.  Many would say that joining a sorority is just paying for friends, but it is so much more than that.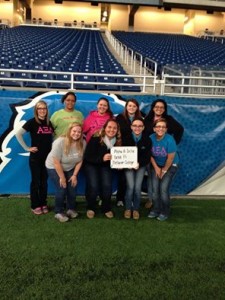 In Alpha Xi Delta we learn so many skills that help us to succeed in many different aspects. Our sisters help to build each other up and support each other. We build confidence in one another and build up each other's weaknesses.
In Alpha Xi Delta we pay for events that help us to bond, we pay for materials we use for different service events we do around the community, and we pay for life lessons and values that will stick with us for the rest of our lives. It's more than friendship, it's a sisterhood. Until next time, keep your eyes on Xi stars.