-Nicole Tank (London, England)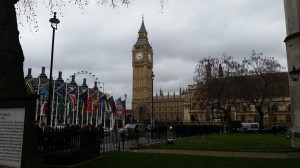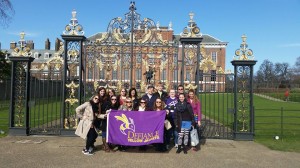 This spring break, a time where most students head south to beaches and warmth, a group of fifteen Defiance College students and two faculty members headed overseas to London, England for the week.
This opportunity was a part of Defiance College's Imagine Initiative, a program promising international travel to any DC student interested in exploring abroad.
Their week started with touring historic landmarks such as Big Ben, Westminster Abbey and The British Parliament. The group enjoyed seeing all the different types of architecture on the buildings, describing it as "breathtaking."
The following day, the majority of the group went to Abbey Road and then traveled to the famous Kensington Palace. The group thought the best part about going to Abbey Road was their attempt of trying to reenact the famous picture of the Beetles, even though it took the group a few tries to get it right.
Later that evening, the group split into two smaller sections; one group traveling to see Charlie and the Chocolate Factory Live and the other group experiencing a Jack The Ripper tour, which highlighted the mystery of an unknown British serial killer.
On the final day, the group travelled to Buckingham Palace and saw the "famous" changing of the guards. Following that, Defiance College students got the opportunity to spend a few hours touring in the nearby British Historical museum, followed by riding the London Eye, which is arguably the world's most famous ferris wheel.
In the eyes of the group, the trip was a huge success. For Junior Rebecca Kain, she found the trip to be a fantastic opportunity stating, "The Imagine trip to London was amazing. It was my first time traveling internationally."
"I liked that you got an entire view of the city." Junior Haley Kuhlman said. "Seeing Big Ben at night was gorgeous, and the city looks so different lit up at night."
The group considered the city of Buckingham a great way to end such an amazing week spent in England, considering the trip as once in a lifetime.
Summed up perfectly by Dr. Kain, "The Imagine Initiative trips are one-of-a-kind to Defiance College. It is one of many perks being a DC student."