-Reeka Edwards (Defiance, OH)
Many students on Defiance College's campus may ask, "what is BASA?"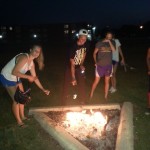 BASA, formally known as The Black Action Students Association, is a growing intercultural club at Defiance College that focuses on offering perspective and understanding on African American culture while educating its membership on relevant current day issues. Open to all students at Defiance College, BASA aims to build a relationship between different cultures to ensure collective unity while creating a unique environment where people can meet and state their opinion without being judged.
Black Action Students Association advisor and Director of Intercultural Relations at Defiance College Mercedes Clay offered this on the group's background.
"BASA is an organization of students who are interested in learning more and cultivating more opportunities to learn about the African American culture and the African Diaspora as whole. They provide a lot of activities on campus that encourages dialogues amongst students and there are some programing that encourages students to get out and mix and mingle."
On September 3, 2015, The Black Action Student Association offered their first ever Field Day. During BASA's Field Day, events such as hula hoop competitions, bonfires, and intramural volleyball games were facilitated to build camaraderie between its members in order for individuals to get to know one another. After the activities, s'mores and hot dogs were among the favorites for a quick refuel while offering opportunities for students to mingle and interact.
Defiance College Sophomore Austin Conlon stated, "this is the first time I have been at a BASA event and it was pretty fun and relaxing. I have enjoyed playing the games and activities offered."
Overall, the BASA Field Day was viewed by students as a success. The interactions between current members and possible group contributors allowed The Black Action Student Association to not disappoint with their first event of the year.
BASA President, Ceresa Page concluded, "The turnout for the field day was sufficient and there is plenty room for the organization to grow. BASA operates as a family unit where persons can engage in relevant debate and still leave feeling loved and appreciated because everybody's opinion matters."
If you are interested in joining BASA, please email  President Ceresa Page at cpage001@defiance.edu or attend their next meeting on September 22, 2015 in The Hubbard Conference Room at 9:00 p.m.  BASA's next upcoming event is 'DC Come UP' in Hubbard Hall on September 16, 2015 at 8 p.m.