– Ben Weber (Defiance, OH)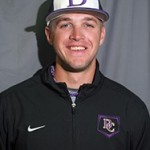 We see them around at practice, we see them at the café, and all around campus. They are close to us in age and we look up to them as mentors. Of course I am talking about the sports GAs (Graduate Assistant). Graduate Assistants go above and beyond the role of a student athlete, as they are student coaches who get piled up with school work and on top of their duties as coaches.
Xander Uxley is the current Graduate Assistant for the baseball team, and is on his second year coaching for the Yellow Jackets.